Ang Dorjee Sherpa, Executive Producer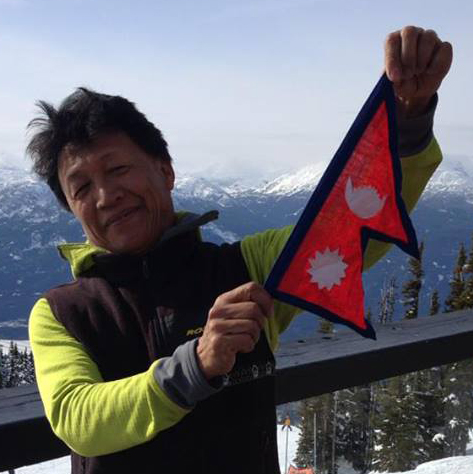 Ang Dorjee Sherpa, Pasang Lhamu Sherpa's oldest brother, grew up in the heart of the Everest region of Nepal and began working with his father when he was 14 years old, leading international trekking groups on mountain climbing expeditions in Nepal, Afghanistan and throughout the Himalayas. He was one of the staff members of the "Man Who Skied Down Everest" expedition in 1970, which became a documentary with the same name about a Japanese alpinist who skied down Mount Everest. The film won the Academy Award for Best Documentary Feature in 1975.
Highlights of his climbing career include a 1971 Japanese expedition up Gangapurna (part of the Annapurna range of mountains in Nepal); a 1972 expedition, led by Reinhold Messner, up Mount Noshaq, the highest mountain in Afghanistan; a Spanish expedition up Mount Everest in 1974; he climbed Mount Noshaq a 2nd time with an Austrian hang gliding expedition in 1974; he was part of a Japanese expedition up Dhaulagiri in Nepal (7th highest peak in the world) in 1975 and another Japanese expedition up Mount Lhotse (4th highest peak in the world) in 1976. He was on an Italian expedition as a high-altitude guide up Annapurna III in 1978 and he climbed Pisang Peak (the 10th highest trekking peak in Nepal) in 1980 with a Nepali Mountaineering Expedition.
After spending his youth working expeditions, he attended high school in Kathmandu and continued to assist his father with periodic climbing expeditions on his time off from school. He came to the United States in 1981 and attended New College of California for three years. He became a citizen of the United States in 1999.
More recently he has climbed Chimborazo, Ecuador's highest mountain, and also Ecuador's Cotopaxi, an active volcano, in 2002. The next year, he climbed Huascaran, the 6th highest mountain in the Western Hemisphere, and Alpamayo, both in Peru. The following year, he climbed Illimani, the highest mountain in the Cordillera Real (part of the Cordillera Oriental, a subrange of the Andes), in western Bolivia.
In 2010, he became a certified member of the National Ski Patrol and volunteers at Soda Springs Resort at Lake Tahoe, California.
He works for Blum Capital Partners, L.P. and serves as an assistant to Richard Blum who is the Chairman and Founder of the American Himalayan Foundation.