Dawa Yangzum Sherpa, Climbing Consultant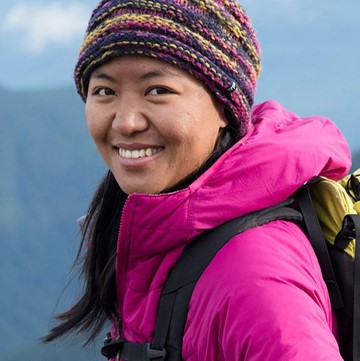 Dawa Yangzum Sherpa grew up in a Himalayan village with no electricity or running water, but by age 9, she knew she would someday summit Mount Everest. She accomplished her dream at age 21, then went on to become the first Nepali woman, and one of just over 100 women worldwide, to earn mountaineering's most elite title—International Federation of Mountain Guides Associations (IFMGA) certification. Dawa was also part of the first all-female team from Nepal to reach the summit of K2, and she made a first ascent on Mount Langdung in her home Rolwaling Valley of Nepal. She has climbed Mount Everest (2012), Cho-Oyu (2014), Ama Dablam (2011), Yala Peak (2009), along with Mount Chiki-Go, Island Peak, and Mount Rainier as a mountain guide.
Dawa represents the spirit of female climbers of Asian descent as a mountain-guide across the globe, alongside being an independent climber. Her 2019 Summit to Makalu is, by far, the fastest summit of Makalu in just 20 hours (Base Camp to Base Camp). Dawa's masterly climbing résumé also includes the summit of Annapurna – the first Sherpa woman of Nepal to accomplish this and additionally without the aid of artificial oxygen. She went on to climb K2 as the youngest woman withal, but her ground-breaking accomplishments as a female first-timer has a lot more to add on to it. She aspires to train more and more female climbers so that they not only take up climbing as a career but also, lean towards guiding. As the youngest woman to have climbed K2, Dawa has been part of a handful of all-women expeditions on 8000ers, and is hopeful more and more Nepalese women will come forward and join in the climbing fraternity.
Dawa Yangzum now splits her time between the United States and Nepal, guiding on Mount Rainier and Mount Baker, in the summer.