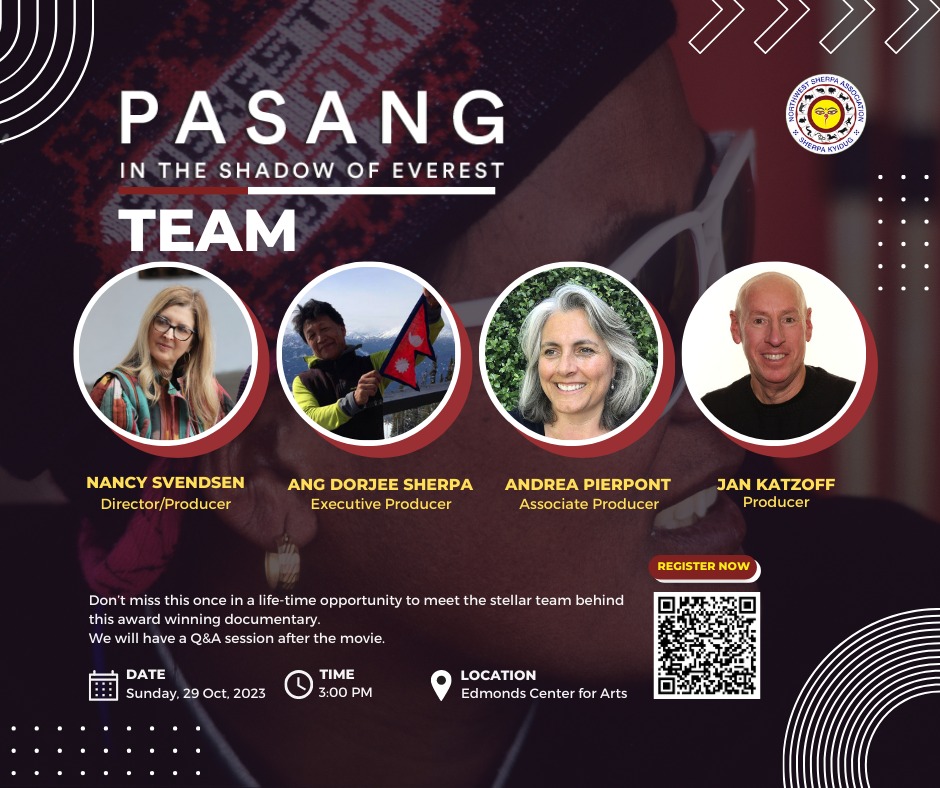 About the Pasang In the Shadow of Everest Seattle Screening:
Pasang In the Shadow of Everest screened at the Edmonds Center For the Arts in Edmonds, WA. This event, was organized by the
Northwest Sherpa Association
.
We are excited to announce that Honorable Guest Norbu Tenzing is joining us for the screening of "Pasang: In the Shadow of Everest." Norbu Tenzing, Vice President of the American Himalayan Foundation and son of the Legendary Tenzing Norgay Sherpa.
Join us for a unique opportunity to meet and interact with Norbu Tenzing, a remarkable personality who is dedicated to supporting vital education, healthcare, and cultural and environmental preservation throughout the Himalayas. Through the American Himalayan Foundation, he touches the lives of 300,000 Sherpas, Nepalis, and Tibetans every year carrying forward the incredible legacy of his father, who, along with Sir Edmund Hillary, achieved the historic first ascent of Mount Everest in 1953.
While we gather to honor Pasang Lhamu Sherpa's inspiring story, we'll also have the privilege of sharing this experience with Norbu Tenzing, a passionate advocate for the Himalayan region. Together, we'll explore the rich story of mountain culture and the enduring spirit of adventure that connects us all. Immerse yourself in the breathtaking journey of Pasang Lhamu Sherpa, a trailblazing mountaineer, as she conquers the formidable Mount Everest. Witness her indomitable spirit and the challenges she faces in this awe-inspiring documentary. Don't miss out on this incredible opportunity to experience the magic of the Himalayas on the big screen.
Event Details: https://tinyurl.com/pasanginseattle
To book your own private screening of the film, contact us.